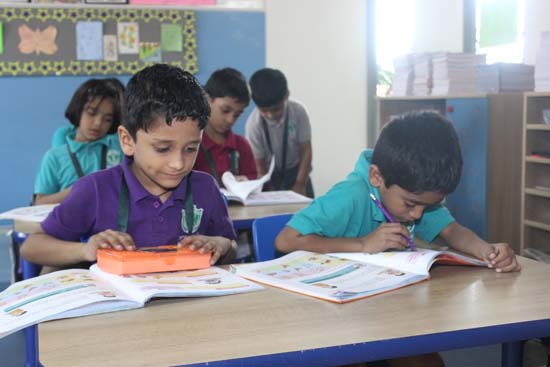 Teaching Pedagogy
The Primary School recognizes the link between development and learning. Inquiry-based curriculum focuses on the child as a learner. The CCE pattern of Assessments introduced takes the students through a journey of activity based learning. The various subject activity rooms, projects, group work, role play, debates etc. lead to higher levels of learning which shift the focus from need for learning to love for learning.
Learning is extended into co-curricular activities like art, craft, dance, music, martial arts and yoga. Students are encouraged to play a number of sports.

From Class II onwards, we introduce a system of class Assessments, slowly acclimatising students to write examinations. Project based creative learning is encouraged.

English
Hindi
Mathematics
Nature Studies / Environmental Studies
Social Science
General Knowledge
Value Education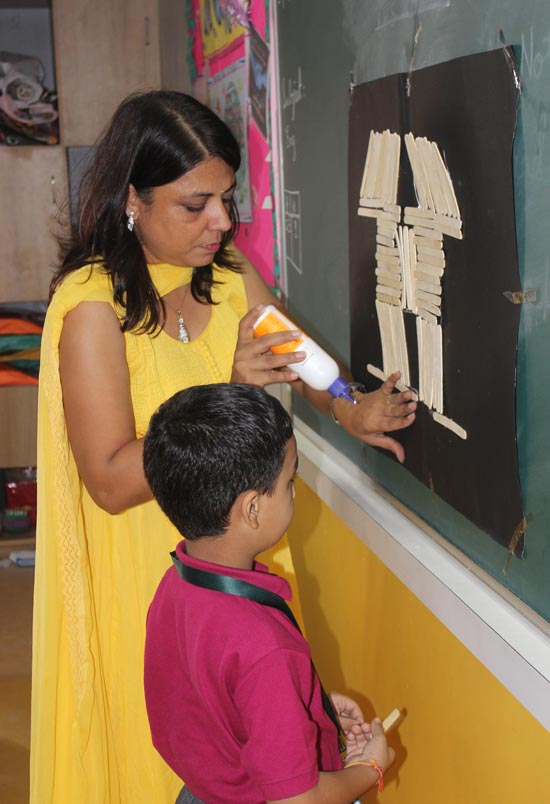 The students are evaluated as per the CBSE guidelines. Regular Assessments are conducted to identify the learning taking place. The primary level focuses on the language development along with the 21st century skills like listening, speaking, reading and writing. The physical development in a student is observed through customised sports activities.
The learning pedagogy is integrated with
Experiential learning
Role play and dramatization
Problem solving
Emphasis on vocabulary building and language skills
Blended learning
Peer learning
Demonstration
Synchronous and asynchronous learning
Integrated Learning
EVALUATION PATTERN FOR CLASSES III-V
Subject
TERM -1(100 MARKS) (1st half of the session) 40 marks Periodic Assessments + 60 marks for Half Yearly Exam
Language1
PA 20 marks

Periodic Test 10 marks with syllabus covered till announcement of test dates by school
Note Book Submission 5 marks at term end
Subject Enrichment 5 marks at term end

Half Yearly Exam

Written exam for 60 marks will be conducted with the following percentage of syllabus:

Class III: 70%
Class IV: 80%
Class V: 90%.

Language2
Language3 (classes 3 & 4)
Mathematics
Science
Social Science
Computer
Subject
TERM -2(100 MARKS) (2nd half of the session) 40 marks Periodic Assessments + 60 marks for Yearly Exam
Language1
PA 20 marks

Periodic Test
10 marks with syllabus covered till announcement of test dates by school
Note Book submission 5 marks at term end
Subject Enrichment 5 marks at term end Yearly

Yearly Exam

Written exam for 60 marks with syllabus coverage as below:

Class III: 5% of 1st term covering significant topics + entire syllabus of 2nd term
Class IV: 10% of 1st term covering significant topics + entire syllabus of 2nd term
Class V: 15% of 1st term covering significant topics + entire syllabus of 2nd term

Language2
Language3 (classes 3 & 4)
Mathematics
Science
Social Science
Computer