DPS Panvel follows holistic pattern of education which combines curricular and co-curricular activities so that the growth encompasses mental, physical and social aspects of its students. We believe in imparting quality education that goes beyond the text books focusing on 21st century skills like critical thinking, collaboration, communication, creativity, problem solving, decision making and artificial intelligence with experiential learning. The focus is on integrated approach with project based learning and emphasis is on sound acquisition of language, numeracy and life skills.
School believes in promoting sports skills and hobbies for which special time slots are allotted from class I onwards.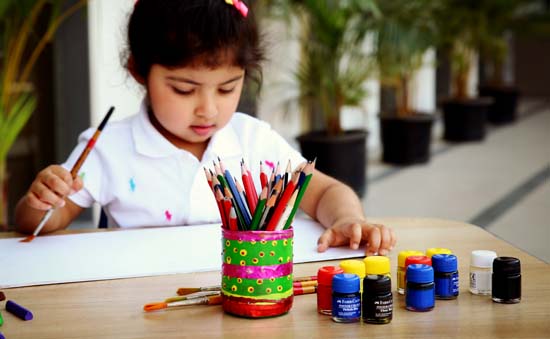 Teaching Pedagogy
Activities appeal to the child's innate tendencies. At the pre primary level we provide theme-based activities that is learning related. Language is taught through phonetic sounds. Number work is taught through concrete examples and is led to conclude step by step in a logical way. EVS is taught through play involving investigation, exploration and discovery.
To stimulate learning we have a special play area, which is a well-equipped room where students are led to discover the world around them based on the themes through fantasy or imaginative play. Multimedia and audio visual aids further facilitate their learning and the fivefold development i.e. Physical development, Social development, Emotional development, Mental development and Spiritual development.
Pre-primary - Nursery, Junior KG and Senior KG
The classrooms are bright and cheerful, catching the brightest rays of the sun. The school is surrounded with natural beauty with hills and a waterfall in the backdrop. The teachers are loving and caring and implement a happy blend of Montessori and traditional teaching approaches.

Students do not have to go through examinations, as we believe in an examination free system at the pre-primary level. Here, students evolve and become better decision makers through stress-free continuous evaluations with the help of our skilled teachers.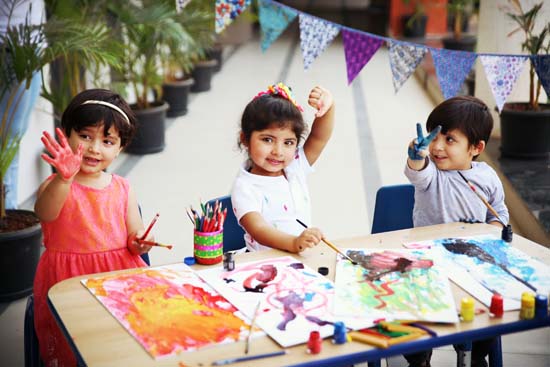 Assessments and Evaluation
Pre-primary (Nursery to Kindergarten)
The students are observed on a regular basis for skill development and the evaluation is recorded on their speaking, listening, language, numeracy, gross motor, fine motor, socio emotional skills. Physical wellbeing is observed through well planned sports activities.
The learning pedagogy is integrated with
thematic approach
experiential learning
role play, story narration and dramatization
problem solving activities
emphasis on vocabulary building and language skills
collaborative learning
EVALUATION PATTERN FOR CLASSES I AND II
Subject
TERM -1(100MARKS) (1st half of the session) 20 marks Periodic Assessments + 80 marks for Half Yearly Exam
Language1
PA 20 marks

Periodic Test 10 marks with syllabus covered till announcement of test dates by school
Note Book Submission 5 marks at term end
Subject Enrichment 5 marks at term end

Half Yearly Exam

Written exam for 40 marks with syllabus covered till announcement of Half Yearly exam dates by school.
20 Marks Oral 20 Marks Activity with syllabus covered till announcement of Half Yearly exam dates by school

Language2
Language3
Mathematics
EVS
Computer
Subject
TERM -2(100 MARKS) (2nd half of the session) 20 marks Periodic Assessments + 80 marks for Yearly Exam
Language1
PA 20 marks

Periodic Test
10 marks with syllabus covered till announcement of test dates by school
Note Book submission 5 marks at term end
Subject Enrichment 5 marks at term end Yearly

Yearly Exam

Written exam for 40 marks with selective coverage from first term and full of second term.
20 Marks Oral 20 Marks Activity with syllabus covered till announcement of Half Yearly exam dates by school

Language2
Language3
Mathematics
EVS
Computer